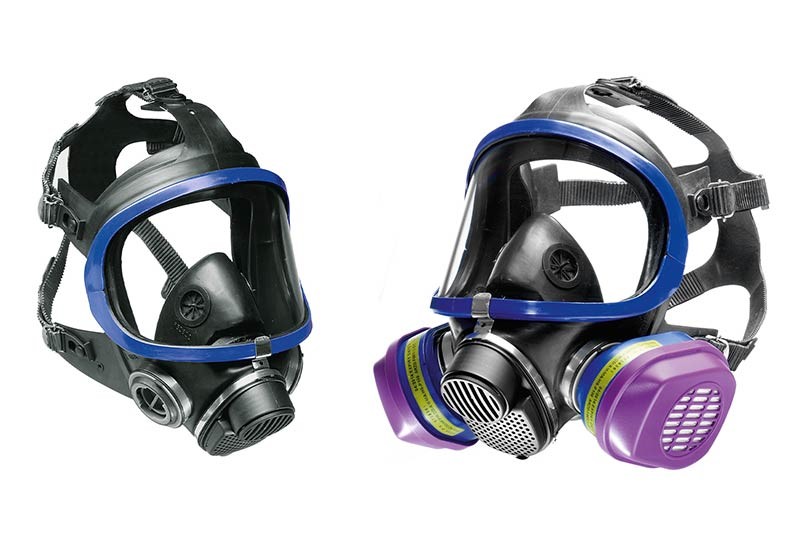 Drager Respiratory Protection
Dräger's offering of respiratory equipment ranges from N-95's to APR, PAPR, SCBA and Airline as well as escape masks/hoods. Drager opened their new manufacturing plant in the US in 2020 during the COVID pandemic to help provide N-95 to essential workers, we are happy to offer respiratory products made in the USA.
DISPOSABLE DUST MASKS N-95
Breathe cool and stay safe with Drager's innovative disposable respiratory masks.
The X-Plore 1300 and 1700 series N95 and R95 dust masks have different form factors but share many standard safety and comfort features in addition to options like odor control filters and exhalation valves. The X-Plore 1300 masks are also available in multiple sizes.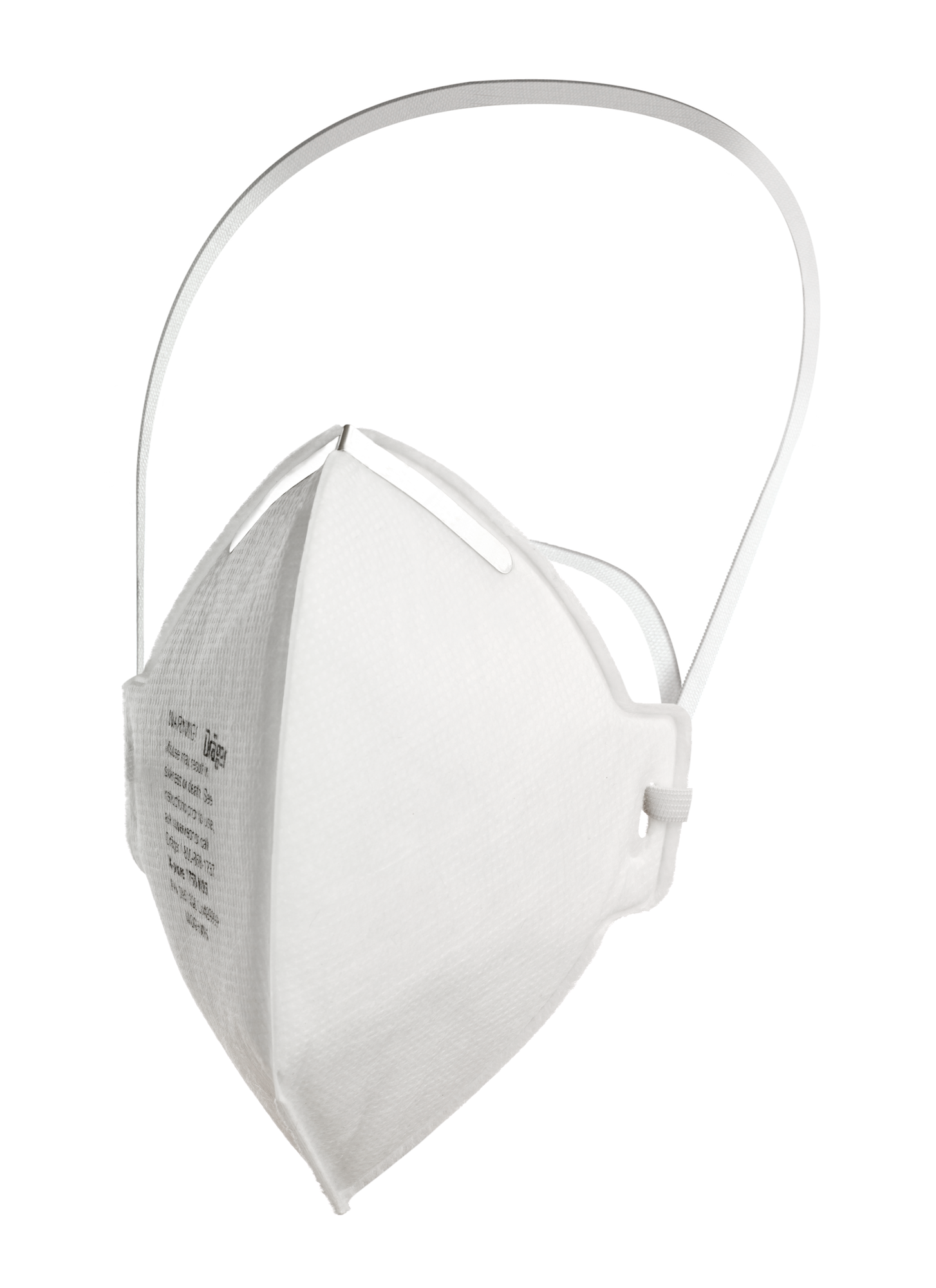 Standard Features:


CoolSAFE filter material combines low breathing resistance and high filter performance, providing protection against fine dust and particles, according to NIOSH 42 CFR 84 protection levels N95 and R95.
VarioFLEX continuous loop head harness is constructed from a stable, elastic textile strap that is easily donned and doffed, creating comfort with minimal pressure.
Soft foam nose pads (N95) or large comfort sealing strips (R95) hold the mask effectively for a secure, comfortable seal across the nose.
Color coded nose clips and valves help to quickly identify protection classes.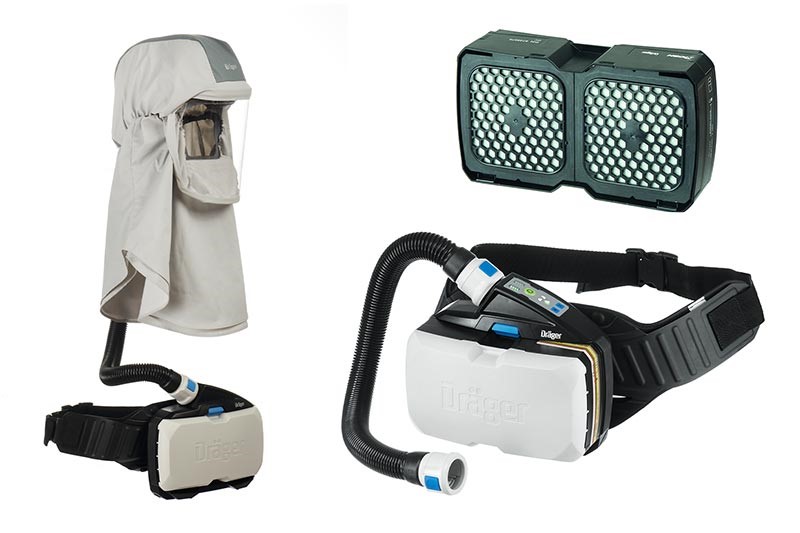 Powered Air Purifying Respirators
Powered air purifying respirators (PAPR) protect your respiratory system against harmful particles and/or gases and vapors, provided that enough oxygen is present in the ambient air and the hazardous substance is known. Using a powered respirator, you have virtually no breathing resistance. You can use PAPR equipment with different breathing filters and headpieces such as full head respirators according to your individual application.
X-Plore 8000
The X-Plore 8000 PAPR offers a new level of intuitive handling combined with intelligent electronics. The result is the high degree of personal protection you need to focus on the task at hand.
Designed for daily use in tough environments with rubber protectors and high ingress protection (IP 65) against dust and water from any direction.
Standard (4 hour) and long-life (8 hour) Li-ion battery options available.
Protected air intake openings ensure that sparks or water coming from the front will not be sucked into the filter.
Comfortable carrying system, hose connector with 360° click adaptor, and hoods designed for optimal airflow let you focus on the task at hand instead of your equipment.
Designed to be practically maintenance free with fast and easy disassembly for cleaning.
Modular design with a wide range of components for every application.
System is equipped with optical, acoustic, and vibrating alarms.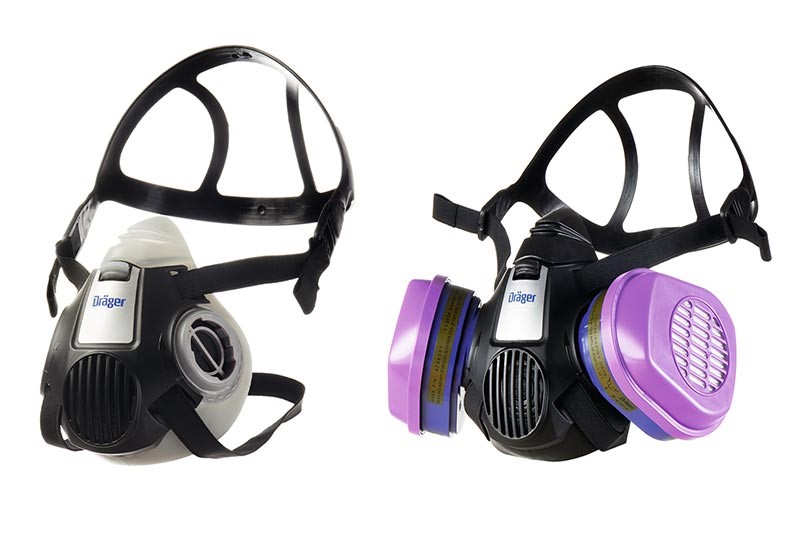 RESPIRATORY MASKS AND FILTERS
X-PLORE 3300/3500 TWIN FILTER HALF MASKS
In conjunction with a wide assortment of filters and cartridges, both the X-Plore 3300 and 3500 series masks offer comfort and protection against particles, gases, and vapors. The X-Plore 3300 mask is an economical choice designed for short usage periods and low maintenance. If you require additional durability and protection along with extended usage, the X-Plore 3500 is the best option.
X-PLORE 3300/3500 FEATURES
Secure fit that does not interfere with eye protection. Three sizes available (S, M, L).
Low-profile design provides an exceptional field of vision and good wearing characteristics for use under protective visors and leads to a longer wearable tolerance by the user.
FlexiFit adjustable head harness provides comfort even under helmets and is easy to adjust for maximum stability and comfort.
X-Plore 5500 Twin Filter Full Face Mask
Whether in the chemical, metal, or automotive industries, ship building, maintenance, supplies, or disposal: The Dräger X-Plore® 5500 full face mask is the right solution for environments where not only increased respiratory protection is required, but a clear vision is mandatory. Like the half-face masks, Dräger full-face masks are designed for use with the comprehensive X-Plore bayonet filter series to offer protection against particles, gases, and vapors.
X-Plore 5500 Features
Double sealing frame with threefold sealing edges offers safe protection and a secure fit for almost all face shapes. The durable EPDM mask body ensures a great level of wearing comfort even during prolonged use.
Comfortable 5-point harness ensures the mask is easy and quick to don. Additionally, the wide strap design prevents the development of pressure points on the head.
Distortion-free lens with 180° wide angle guarantees a large field of view with excellent peripheral vision. Choose from impact-proof polycarbonate or scratch-proof and chemical-resistant Triplex glass.
Simplified logistics with an inside barcode allows for ease of recording and servicing the mask inventory.
Efficient ventilation system with separate interior half mask ensures a fog-free lens and unobstructed view.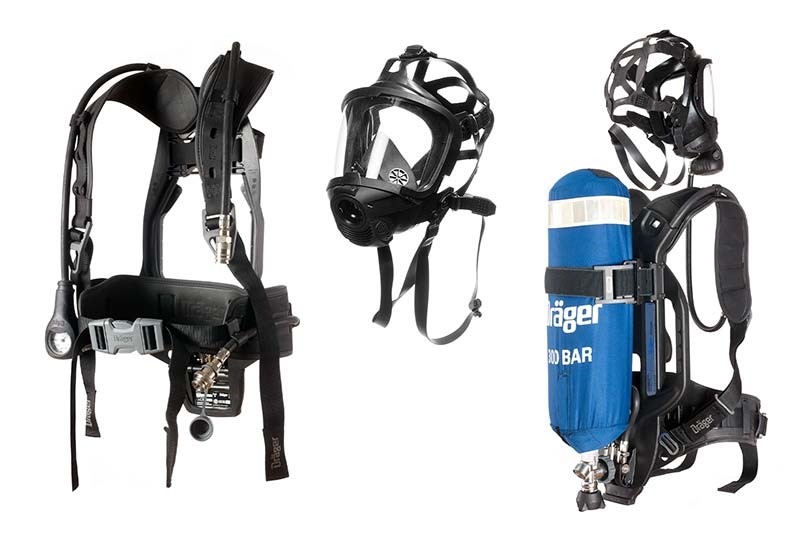 SELF-CONTAINED BREATHING APPARATUS (SCBA) UNITS
Isolation devices provide reliable breathing protection on work sites where hazardous substances may exist, or with low oxygen levels. Drager's light compressed-air breathing apparatuses are suitable for short periods of use and even as rescue devices in emergencies.
PSS 3000 SCBA FOR INDUSTRIAL APPLICATIONS
A new generation of high-performing breathing apparatus for industrial applications. Combining comfort with exceptional performance, the PSS 3000 is designed for applications where simplicity and ease-of-use are essential. Lightweight yet robust, and easy to wear, this advanced breathing apparatus provides the ultimate breathing protection.
Proven air supply technology.
Enhanced carrying system follows natural body contours providing improved stability, reduced back strain, stress, and fatigue.
Air pressure and gauge hoses integrated into the carrying frame.
Easily serviced with major components that are simple and quick to remove and re-assemble.
Versatile system with interchangeable components like face masks, high/low pressure cylinders, radio devices and more.